---
---
---
---
---
---
---
Description:
Winter annual grass growing up to 24 inches tall. Leaf blades are somewhat rolled and flowers are similar to wheat. Inflorescence contains 2 to 3 spikelets per node and the longer of the two spikelets contains upward pointing barbs that are nearly as wide as they are long. Awns tend to twist as plant matures. Seed head breaks apart when mature, which is a distinguishing feature from squirreltail and foxtail barley.
Distribution and Impacts:
Medusahead rye is most abundant in eastern Oregon and parts of western Oregon. Grows in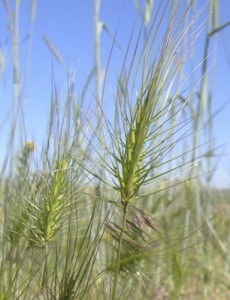 semi-arid rangelands and heavily grazed pastures. Grazing capacity can be reduced 40-75% in infested areas. In Union County it is commonly found in pastures and open rangelands and can be seen in large monocultures.
Controls:
No known biological control exists, however, chemical treatment in addition to proper grazing management can help to control infestations. Chemical treatments include: Imazapic (fall application) or Glyphosate
---
---
---
---
Description:
Distribution and Impacts:
Controls: 
Digging and tilling can effectively control small infestations. Mowed or grazed plants can still flower and produce seeds. Chemical treatment can include: Picloram (fall) and Aminopyralid (fall). No known biological control exists for this species.
---